About the Event
Karin Celestine – Celestine & the Hare – is a fibre artist and writer. She needles felt small creatures and tell stories from her little shed workshop in Monmouth, Wales. Each creature Karin makes has a unique character, charm and mischief of its own. She has a sense of fun and nostalgia and a love of the forgotten, small, passed over and missed things. Karin is the author of several much-loved children's books and the creator of beautiful short stop motion animations of the creatures she has brought to life.
On Friday 22nd September, Karin Celestine will be running a needle felting workshop for adults, in which you can make a fox. You don't need experience to do this – many adults who can't knit or sew have attended similar workshops in the past and still who leave with a beautiful little creature that they have made for themselves.
This workshop takes place in Leek Wootton, and free drinks and delicious cakes will be provided, though you'll need to bring your own lunch. There are only eight spaces on this workshop so book quickly! You can book a place (and have a look at more of Karin's work) through the link below.
Please note this workshop is not suitable for children. Celestine & The Hare will be running a family-friendly workshop on Saturday 23rd September at The Gallery.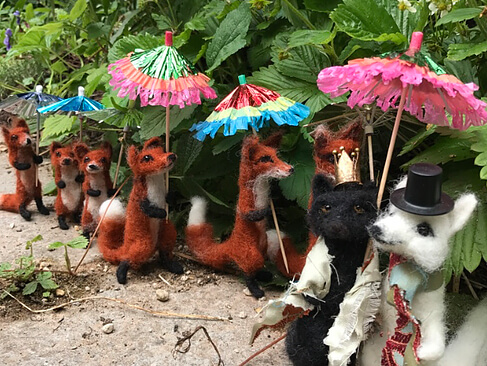 Make your own fox!